Practice TSHOOT Tickets with Packet Tracer & EVE-NG
Special thanks to Buddy who sent us these files. Please say thanks to him. Now you can practice most TSHOOT Tickets with Packet Tracer v6.1. Please download all the tickets in one file here: https://www.networktut.com/download/Cisco_PT_6_1_TSHOOT_Package.zip. All the guides were included in that file.
Note: Please use at least the final Packet Tracer v6.1 (STUDENT Release) or above to open them. Below is a screenshot of the pkt files: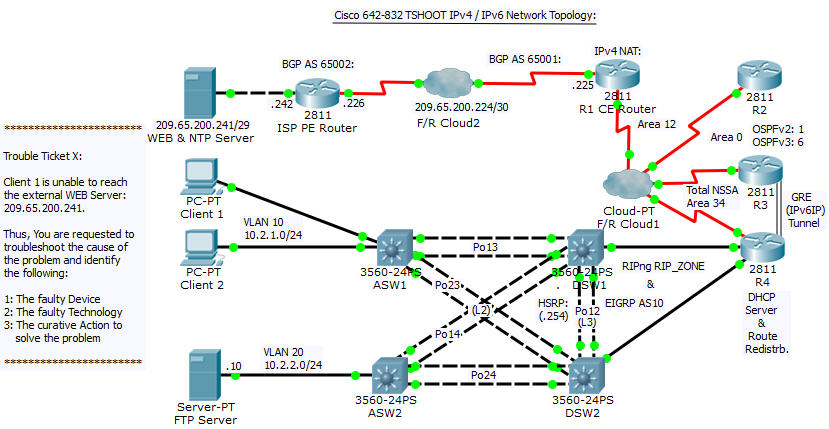 *********************
From Buddy:
Please notice: It's mainly all the Packet Tracer TSHOOT L2 based trouble tickets, that needs to be reconfigured with STATIC IP addresses at the PC Clients by today
Thus when reconfiguring the two PC Clients with static IP addresses, please remember to also EXCLUDE the two Client IP addresses (.3 and .4) within the DHCP Pool at DHCP Server R4, at the same time.
****************************
Special thanks to Marcus for creating the TSHOOT topology with EVE-NG network emulator (currently this is one topology file with working configuration, not the tickets). You can download this file here: https://www.networktut.com/download/TShoot_300-135-TT_EVE-NG.zip. Below is screenshot of the EVE-NG file: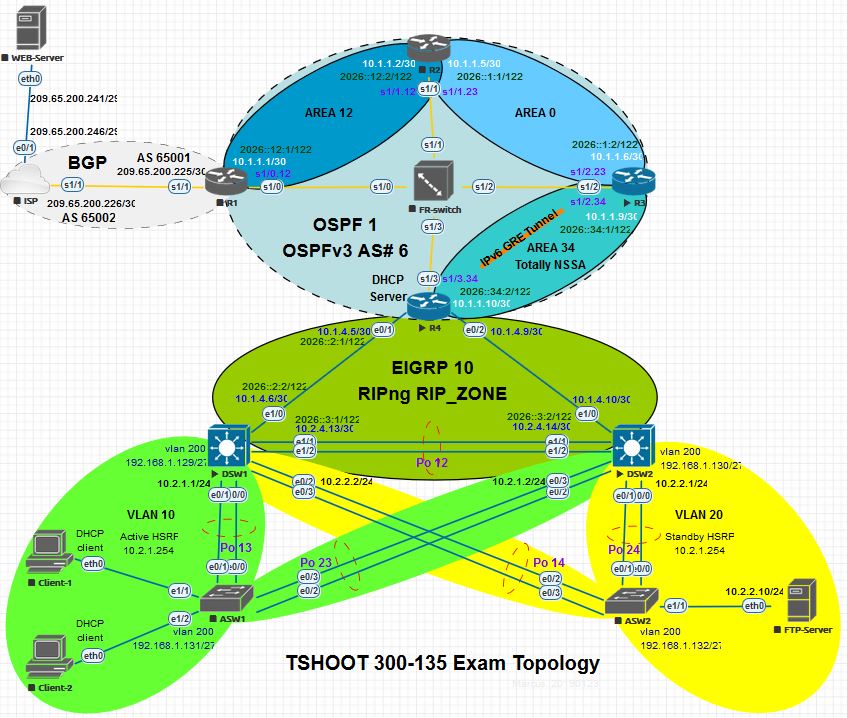 Note:
+ EVE-NG emulator must be installed to open this file.
+ This file uses these IOL images (but you may use other IOL images):
 – i86bi_LinuxL2-AdvEnterpriseK9-M_152_May_2018.bin
 – i86bi_LinuxL3-AdvEnterpriseK9-M2_157_3_May_2018.bin
+ Importing steps:
1. click ACTIONS/Import external labs
2. select target lab but don't unzip it then import
3. BEFORE starting any nodes on ASW1,ASW2,DSW1,DSW2 select the Layer2 IOL image that is present in your eve.
4. click More actions/Start all nodes