Troubleshooting Lab Challenge 1
Note: We created this lab challenge to help you get some practice with networking problems only. These labs are only for fun and do not appear in the TSHOOT exam. Please let us know if you like this simulator or not so that we can continue making other simulators in the future. Any suggestion, recommendation, error reports are warmly welcomed!
Troubleshooting Lab Challenge 1:
A network engineer has edited their network configuration and now your customer is experiencing network issues. Some reports said that users connected to CLIENT router (R4) cannot reach the services located at SERVER router (R3). They have contacted you to resolve the issues and return the network to full functionality.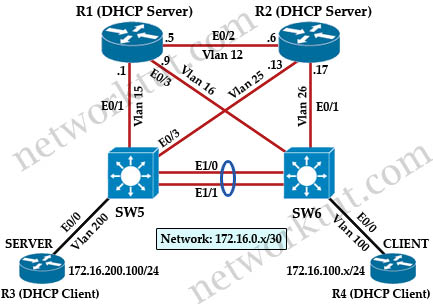 To troubleshooting effectively you should understand how this network works. We summarize it as follows:
+ OSPF is running among R1, R2, SW5 and SW6, all are in Area 0
+ R1 and R2 are two DHCP Servers
+ R1 is only responsible for answering DHCP Request from SERVER (R3)
+ R2 is only responsible for answering DHCP Request from CLIENT (R4)
+ Interfaces E0/0 of SERVER and CLIENT is running DHCP to request IP addresses
+ There is an access-list named "edge_security" on SW5 that prevents devices with source IP of 172.16.0.x from accessing the SERVER.
There are 9 tickets waiting for you to resolve. Below are the links to access them:
Please try your best to solve these tickets!
You can find the solution and explanation for each ticket here.